As a business owner, you're all about metrics and KPIs. You measure cash flow, expenses, revenue, and profits. There are so many metrics for you to measure you might find it overwhelming which ones to pay attention to.
Sure, there are analytics platforms to invest in that will aggregate your numbers. But you still need to make the right decisions based on the data. The software won't make the decisions for you.
For your marketing efforts, you need to look at the right metrics to make sure your investment pays off. Discover four marketing KPIs to measure and analyze as you develop your SEO efforts and strategy.
Related Post: Our Guide to Artificial Intelligence in Digital Marketing
1. Number of Users on Google Analytics (GA4)
Universal Analytics and Google Analytics 4 measure the users who interact with your website. Comparing year-over-year metrics and the current period with the previous period gives you an idea of how many people go to your website during certain months. You can see the number of people who find your site through organic searches, paid advertising, referral traffic, direct traffic, and custom parameters like emails and Google Business Profiles.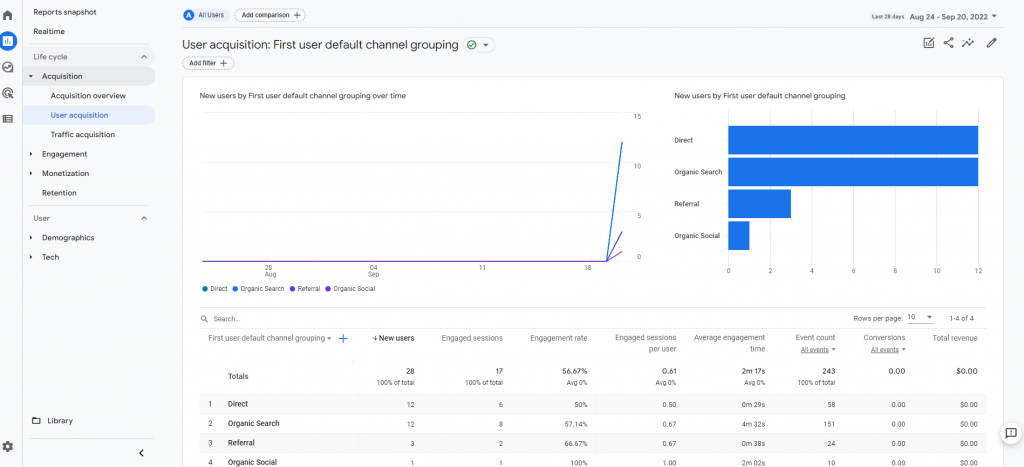 Why is this marketing KPI important?
Users represent a marketing KPI you must monitor to ensure people can find your website and brand through online channels.
Further, you need to see how many people come to your website to determine any seasonal fluctuations, whether they are new or returning users, and how they reach your website. For example, you see that 95 percent of your users are new. That's great because many new people engage with your website, and you're bringing in new traffic. 
But do you know how to bring those people back? At this point, you can surmise that many new users are simply there to see what your brand is about or need information. You can also see how people move through your website based on what pages they land on first.
If you have seasonal fluctuations with users, do you know why? Do you want to drive more traffic during slower times? You might consider having some kind of paid advertising to bolster your presence.
Knowing your user behavior opens up the possibility of adding relevant landing pages, comprehensive guides, FAQs, or blogs to your site. You might find keeping users engaged can come from email marketing, social media, or paid advertising. Each strategy offers different benefits regarding timeliness, qualifying leads, and brand awareness. Improving this marketing KPI brings more traffic to various pages on your site, which can improve page rankings in an organic Google search.
2. Search Results on Google Search Console
Google Search Console is different from GA4 because this tool tells you how many times your website appears in a Google search, how many clicks your site receives, the click-through rate, and where your pages rank in a Google search. 
Think of Google Analytics as the gateway to see how people engage with your website from all channels, while Google Search Console is the tool that shows you how people find your website organically.
Data goes back 16 months. Impressions indicate how many times various pages appeared in a Google search. Clicks highlight the number of times someone landed on a page. Click-through rate shows the clicks divided by the impressions. One oft-overlooked metric here is the average position. This metric shows where a page appears in a Google search results page.
How do you find the keywords? Those are the queries listed on the left side of the column. You can click on an individual page (in the pages column) to see how people found them in a search. For example, you see the page acmebrick.com as the top one people clicked on over the past three months. You can click on that URL, then switch to the Queries column. You will see the keywords people put into a search to make that page appear and where it landed within the search results. 
Why is this marketing KPI important?
This marketing KPI shows you how each page appears in actual Google searches. It lets you know how many branded versus non-branded keywords people use to find your site. You can assess where you can improve your SEO.
For instance, you will likely consistently rank well in an organic search for your branded keywords, such as a business name or product name. Your marketing team will need to understand how people find your pages through non-branded keywords, such as high-level services (i.e., accounting or lawn mowing) and product categories (e.g., SUVs or blankets).
If you see a lot of impressions without many clicks on pages you want to rank higher, consider adding more engaging content using the right keywords. Think about creating video content or images to keep people interested in your brand. Then you can monitor Google Search Console's marketing KPI over the next few weeks and months to see how your changes affected the page in Google's rankings.
3. Conversions in Google Analytics
One reason marketers love GA4 is that it shows conversions across multiple channels over time. You can customize conversion events and even ascribe a monetary value to them, leading you to create a cost-per-conversion metric.
Creating conversions in GA4 is a bit nuanced, but you can drill down as deep as you need to within the user journey to see how users convert through your website. This marketing KPI can even show you the cost per conversion to optimize how much money you spend on campaigns.
For instance, you spend $1,000 monthly on a social media campaign. You can set up a conversion goal for people to fill out a form on your website after they click on a social media post.
Why is this marketing KPI important?
Tracking conversions lets your team assess the strength of your leads. Who clicked on which social media posts? What about advertisements? How many form fills have you had on your website? How many of those conversions became qualified leads and then sales?
Any time you have a conversion, your teams can determine how well your sales pipeline works. You'll have an opportunity to make improvements in your sales automation, collateral, and techniques to close sales through your marketing flywheel to try to shorten the sales lifecycle. This marketing KPI helps marketing and sales teams optimize their combined efforts.
Related Post: Considerations for Your First Digital Marketing Meeting
4. Links in Google Search Console
Backlinks represent one key audience engagement signal Google uses to determine a web page's ranking. Sites that link back to your page because they value the information on it tell Google's algorithm that what you have is valuable. The more quality backlinks you receive, theoretically, the higher your page ranks in a search.
You can find backlinks on the left side of your Google Search Console property. To see your backlinks, look at the top linking sites report. There you'll see the total external links and the top linking sites. This is the official report of what Google sees for other websites that link back to your web pages.
Why is this marketing KPI important?
Not all backlinks are great. You can click on the backlinks on this list to examine what the page looks like. Does the site have good information on it? Would you want to land on this website? Does the website have a lot of ads on it? Can you tell the purpose of the website? 
Backlinks highlight a marketing KPI that not many marketing teams pay attention to. It's a long-game strategy that can pay big dividends in your overall marketing strategy, but it takes a greater effort beyond automating your ads or sending out 2,000 emails. 
Plenty of tools you can tap into that will assess the web page and the website as a whole to see how well Google might rank the backlink. It's called an Authority Score or Page Score. These scores are proprietary to whatever tool (like SEMrush, Moz, or Ahrefs) you use. You can scan the website that links back to yours in these tools, and they will tell you if it has good authority or not.
Let's say you see backlinks from your local chamber of commerce, an online listing like Bing or Yahoo! Local, and an industry group directory. All of these links are relevant and valuable. But then you also find links from a website that no longer works, one that simply has a long list of links and that's it, and a site that just aggregates images about a particular topic.
If websites don't have a lot of value, you can tell Google to disavow backlinks through its specialized tool. Disavowing backlinks does not remove the link from the website that links to your page. It does ask Google to remove that link when its algorithm assesses how valuable your page is for its rankings.
You can also assess the backlinks of your site to try to get better links. To do this, you can write a guest blog, become a member of an organization relevant to your brand, and make sure your website has links to online listings people use to find your business location.
Partner With Experts Who Can Enhance Your Marketing KPIs
A marketing agency has the knowledge and expertise to help you assess and enhance your marketing KPIs to give you a path forward. Partnering with experts gives you the advantage of knowing how well your current marketing campaigns are working and where you can improve.
Contact BigPxl or call (417) 232-3306 for a consultation. We're happy to help in any way we can.