If you're a hyper-local business or you have a lot of competition in your area, you likely rely on Google Reviews to boost your company's visibility in a Google search. The ultimate goal is to be in the top three of a search for "best Italian restaurants in Springfield, MO" or similar searches.
Your reviews are cruising along at 4.9 stars out of five, then your rating suddenly dips. You look at your Google Business Profile to see five one-star reviews in a row. Luckily, you can take action to mitigate these negative reviews. One way is to report a review to Google. The trick to success is finding the appropriate reason why the review should be removed. If that doesn't work, other ways exist to combat negative reviews. We'll show you how.
How to Report a Google Review
When you see a wayward review, click on the three dots to the right of the review and then select "Report review" from the drop-down menu. Another tab will appear.
You can choose one of seven options to report a Google review for a Google Business Profile you manage, or you can select one of eight options for a Google Business Profile when logged into a Google account that doesn't manage your local listing.
The lone difference between the options is that someone outside your organization can pick an option that says "Not helpful".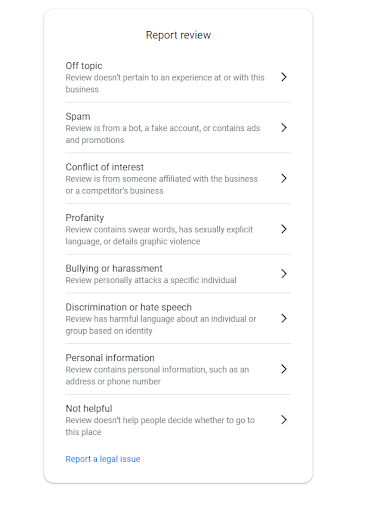 Once you select the most appropriate option, and the choices are self-explanatory, select the Submit button. Then Google will tell you they will review the request, and they'll get back to you within three business days with a decision.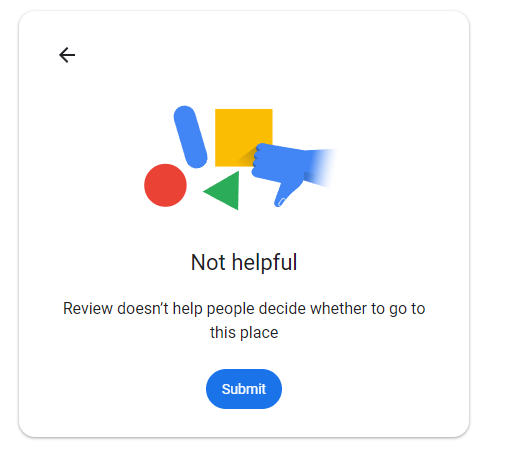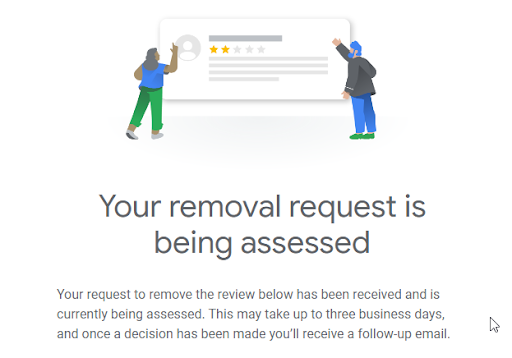 Of course, nothing is guaranteed. Google will either tell you the request was accepted or denied in the follow-up message. The search engine giant will not tell you why they chose to keep or remove the review. You can't send a lengthy explanation as to why the review is being reported. However, the workaround is to contact Google Support to make your case.
For example, you can select "Conflict of interest" if someone who works for a competitor leaves a negative review. If Google refuses to remove the review after you make that assertion, you can send screenshots that prove the person leaving the review is affiliated with a competitor. You could find a social media post by the person that shows them working at their place of employment or find a link to an About or Team page highlighting the person's job at the competitor. Then, upload those photos or links to the Google Support form that you fill out when you're logged in as the Google Business Profile manager.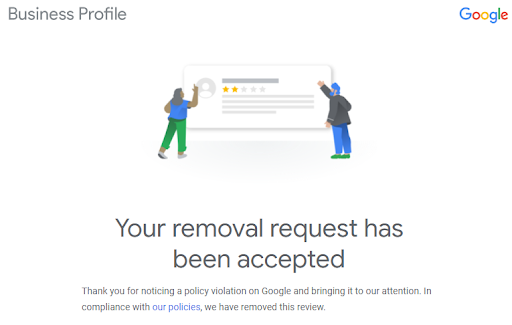 If you still want to mitigate a negative comment, you've got a few options if you can't delete the Google review from your management account.
Strategies for When You Can't Delete a Google Review
So, you received a message from Google saying the review will remain.
You can still take action to combat the negativity.
1. Respond to the Reviewer
This method takes a delicate approach. Consider how well you know the reviewer. Is the person a regular customer? Do you remember the customer? 
Consider this type of response:
"Thank you for reaching out to us, [reviewer's name]. We're sorry your experience was less than satisfactory. Please contact us at [email address or phone number], and we can discuss the matter further."
When you respond to the review, the reviewer will receive a notification on their end.
At this point, you have an opportunity to make the situation right. Hopefully, the customer will be impressed that you at least tried to rectify what happened. Maybe they will change the review or update it. They could also take down the review altogether. 
You can delicately ask them to change or remove the review at some point during the conversation. The best way would be to hint around it like, "So, based on the Google Review you left us, have we corrected the problem?"
The key here is to gauge how much time and effort you feel the review is worth. Do you receive ten 5-star reviews a day? Then getting one negative review may not be worth the time. If you get one review a week, then talking to the customer might be a more practical option.
You might think reaching out is just not worth your time. And some people are just spiteful and won't change the review no matter what you do. You should handle things on a case-by-case basis.
2. Have Other Customers Leave Positive Reviews
Reach out to other customers who enjoy your products or services by gently reminding them that they can leave a review of their positive experience. Eventually, the positive reviews will push the negative review further down the list when sorted by the newest reviews first. 
Time for some math. Let's say you have 20 five-star reviews before getting a one-star review. That one-star review will lower your star average to 4.81, rounded down to 4.8. You may not be able to get back to a 5.0 rating, but you can move it to a 4.85 to round up to a 4.9. It would take five more five-star reviews to do this. The more cumulative reviews you have, the more it will take to raise or lower your rating to the next level.
3. Get Multiple People to Report the Negative Review
You don't have to be the manager of a Google Business Profile to report a review. Anyone who signs into a Google Account can do so. They can simply find the Google Business Profile, select the URL that shows the number of reviews the business has, and then choose the wayward review from there.
Again, reporting the review isn't a guaranteed option for getting it taken down. However, you can at least try. 
If you want to completely erase all of the negative reviews and start over, you can delete your Google Business Profile entirely. But we don't recommend that unless you have very few reviews.
Local Listings Management as Part of SEO
Here at BigPxl, we can help you manage your local listings as part of overall SEO work. We'll handle directory management, where we connect your listing to more than 60 relevant directories like Apple Maps, Amazon Alexa, and Yellow Pages. We'll also respond to positive reviews you get every month to help your customer engagement. And we'll make sure your Google Business Profile follows best practices to try to keep your target audience informed about your company.
Reach out to us for a consultation on SEO or any other digital marketing services. We'll help you get noticed by the right people.